Human & Future Development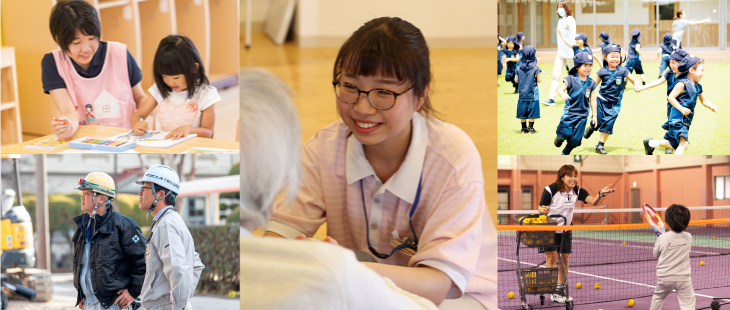 We will make people's futures richer with the concept "community development equals life development."
We understand local needs, provide unique products and services to meet such needs, and create

energetic, rich,

and

happy

futures in many areas.
We are expanding our development bases worldwide.
We always pursue CS (customer satisfaction) and ES (employee satisfaction), and continue to provide the best, incomparable products and services in many areas.
We try to maximize the profit gained through our own assets and the value of the assets owned by the entire Group.
Business description
Provision of products and services which are community coexistence-oriented and the development of real estate, with a focus on community development
Our products and services
Nursing care business (Nikke Care Service Co., Ltd. / Pamco Inc.)
Daycare services
Small group home care
Welfare equipment rental and sales
House renovations (barrier–free modifications)
Commercial facility operation business (Nikke Town Partners Co., Ltd.)
Nikke Parktown
Nikke Colton Plaza
Sports business (Nikke Indoor Tennis Co., Ltd. / Nikke Leisure Service Co., Ltd.)
Tennis schools
Golf courses, driving ranges
Equestrian clubs
Real estate business (Real Estate Section / Nikke Real Estate Co., Ltd.)
Commercial rentals (office buildings in Osaka City, rental office management)
Residential real estate (sales of residential land and construction of houses)
Children's amusement facility business (Nikke Audeo Service and Development Co., Ltd.)
Ice cream business (Nikke Audeo Service and Development Co., Ltd.)
Video rental business (Nikke Audeo Service and Development Co., Ltd.)
Snack sales business (Nikke Audeo Service and Development Co., Ltd.)
Amusement business (Nikke Audeo Service and Development Co., Ltd.)
Cellular phone business (GCC Co., Ltd.)
Childcare / after-school care business (Nikke Life Co., Ltd.)